MARINE ENGINE TREATMENT AND STOP LEAK
DPM additives are recommended as sealing additives or performance treatment additives in auxiliary engines and emergency power plants.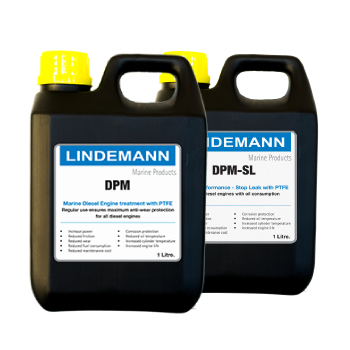 DPM additives contain microscopic particles of Teflon (PTFE), which has a very low friction.The combination of specially treated Teflon particles and other anti-wear, anti-friction and anti-oxidation additives in DPM provides better fuel economy, higher performance and minimum wear – even at high speeds and high loads.

If DPM is added to traditional lubricants added regularly, all types of diesel-powered machinery maximize protection DPM increases the lubricating properties of oil and is fully compatible with all engine oils, corresponding to international CC, CD and CF specifications.

DPM can be used with filters with filter pores of 5 microns and bigger. DPM's excellent lubricating properties help improve and maintain the lubricating properties of the engine oil. The regular use of DPM reduces the amount of wear particles (metal) in the oil.

DPM lubricates and protects the engine at temperatures far above what normal oil can resist, which is important especially for turbocharged engines.
DPM can be used at temperatures from -30 °C to +250 °C.
Reduced leakage and oil consumption
Reduced mechanical noise
Increased power
Reduced friction
Reduced wear at cold-start
Reduced fuel consumption
Reduced maintenance costs
Corrosion and rust protection
Reduced oil temperature
Increased engine life
Increased cylinder pressure
DPM additives are recommended as a sealing additive or diesel performance additive in auxiliary diesel engines and emergency power plants.
Change the oil and oil filters and let the engine run till it is warm.
Turn the engine off.
Shake the bottle with DPM very thoroughly and add the additive to the oil.
Start the engine again and let it run for minimum of 15 minutes.
Repeat the treatment at every oil change.
NB: New or fully refurnished engines must run 50 hours before they can be treated with DPM.
1 liter DPM is sufficient for 32 liters of engine oil. In case of heavy leakage, please, consult the Lindemann team before use.