STATIONARY GREASE PUMP KIT
This kit is a perfect choice for the application of MPS products delivered in 20 kg containers.
Stationary grease pumps are used for dispensing grease as a lubricant to the stern tube, bow thruster, or other systems. The grease pump suits the diameter of the MPS drum, but also can be used onboard for other purposes.
The advantages of a stationary grease pump are its compact and rigid measures.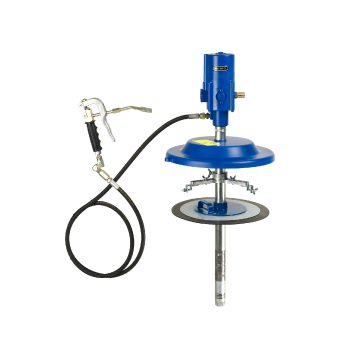 Provides 1100 g fat per minute at 8 bar.
50:1 grease pump
2 meter ¼ " hose
360 degree rotating grease gun
Follow Plate Ø 270 to 310 mm
For 20-kg-container, ø 270 – 310 mm.
Pneumatic grease pump 50:1
Special pump mechanism
Male quick-release adapter (20 062)
High-pressure flexible grease hose, 2 m (18 022)
Dust cover, stabilizing-fixing bracket and follower plate
High-pressure grease gun (18 104)
Z-swivel joint (18 082)
Pressure-reducing valve (pre-set at 8 bar)
Compressed air connection: Male quick-release adapter, for Rectus coupling, type 26, NW 7,2 mm
Grease connection: Coupler, for hydraulic grease nipples, DIN 71412
Dimensions LxWxH (mm): 1010 x 480 x 105
Weight (kg): 12,24
Packing unit: 1,0
Assembly: not assembled. Assembly and use instructions are in the box. The pump is sent together with the flange kit to ease the application onboard.