HYDRAULIC ADDITIVES - Stop Leak and Maintainance
HYD additives contain microscopic Teflon (PTFE) and anti-wear, anti-foam, anti-oxidation and anti-corrosion additives.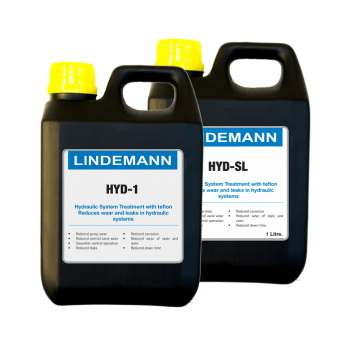 HYD is the result of long-going scientific studies into lubrication and protection of hydraulic systems. Our studies have unveiled that reducing wear and leaks in these systems is definitely necessary for reasons of safety. Normal hydraulic oils are in many ways ordinary base oil, which does not have the same bearing capacity as HYD additives.
HYD consists of microscopic Teflon (PTFE) and anti-wear, anti-foam, anti-oxidation and anti-corrosion additives. All these components are mixed together with high quality carrier oil, which corresponds to the tough Abex Dennison HFO/HF2 performance specifications and to Sperry Vickers "Hydraulic Vane Pump" test on wear.
CHARATERISTICS AND BENEFITS
Appearance: Cream-colored liquid
Boiling point/range (°C.): >300 °C
Flashpoint: 100 °C
Shelf Life: Min. 10 years under correct conditions
Reduced noise
Reduced heat
Reduced pump wear
Reduced control valve wear
Softer control/operation
HYD-SL seals/ reduces leaks
HYD-1 prevents future leaks
Reduced wear on seals
Reduced maintenance costs
Compatible with mineral, synthetic and most types of bio-degradable oils
HYD additives are recommended as both sealing additive and as a hydraulic system treatment for all types of pumps.
LINDEMANN HYD is suitable for use with oil filters exceeding 5 microns. Shake well before use. Treatment with HYD can be carried out at all times.
After the oil change or if the system is refilled after leakage. After application, the system should be used thoroughly to ensure complete circulation of HYD.

WARNING!!!
LINDEMANN HYD MUST NOT BE USED IN HYDRAULIC BRAKE SYSTEMS USING VEGETABLE OIL.
Add 1 litre of HYD for every 100 litres of hydraulic oil as
treatment.
When applied to leakage, a higher concentration may be required. Please, consult us for further instructions.