FOR LIP SEALS WITH SEAL REVITALISER
An effective additive for Stern Tubes, Bow Thrusters, Azimuth Thrusters and CPPs.
MPS 896 Special Mix is usually used in systems with water ingress, when there is an access to the sealing chambers from the aft seal tank.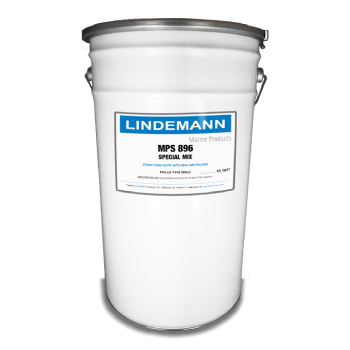 MPS 896 Special Mix has been developed specifically to stop water ingress in systems with lip type seals. MPS 896 Special Mix contains a very high amount of Teflon, which due to friction will embed the wear surfaces during operation, repairing minor defects in the contact surfaces between shaft and seal. This will prolong the life time of the seals.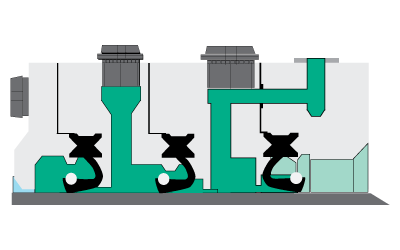 Dynamic barrier in aft seal chambers
In addition to high concentration of PTFE, MPS 896 Special Mix contains another additive, which gives the paste different structure and makes it cling to the rotating shaft with a firm grip.
The "firm grip" on the shaft ensures that the higher level of PTFE is interlocked right in front of any given slip between the seal and the shaft, offering a tougher sealing effect that will withstand greater forces from the sea.
The paste's seal revitalizing additive preserves or restores flexibility of the rubber seals without swelling.
Lubrication with solids
MPS contains a high concentration of PTFE and Bentonite
No water/oil emulsion
MPS does not emulsify with oil or water
Compatible with most oil types
Oil is used as a carrier for solid particles, PTFE and Bentonite
Broad working temperature range
MPS tolerates temperatures from -30° C to 260° C
MPS contains seal revitalizing additive
Compatible with FKM and NBR elastomers
MPS restores seals elasticity without swelling
Surface treatment
MPS polishes the surface and fills in cracks of up to 2 mm
MPS provides static lubrication due to surface fluorination
Anti-corrosion and EP properties
MPS enhances corrosion protection and allows increased loads
HOW TO APPLY MPS 896 SPECIAL MIX
The MPS 896 Special Mix paste must be injected in its concentrated form directly to the aft seal chambers.
Important: It is necessary to have a suitable pump for the application. Lindemann can supply a high-pressure pump, which suits the 20 kg drum, for easy application. The pump can later be used for other purposes.
TYPICAL APPLICATION AREAS
MPS 896 Special Mix is specially designed to re-establish the sealing effect in defective lip seals systems with water ingress.
MPS 896 Special Mix will work equally well with most materials e.g. bronze, chrome, stainless steel or brass and rubber, asbestos and plastics
MPS 896 Special Mix is compatible with NBR and FKM elastomers
MPS 896 Special Mix can be used as an additive with both mineral oil and EALs
Apply 100% of MP 896 Special Mix to aft seal chambers only.

Please, consult Lindemann team for application instructions and the necessary quantity.